MEd 3.0 - A TaeRichEdit Component Demonstration
MEd started out as a simple replacement for WordPad. It turned into a monster.... There were no complete RichEdit 2.0 components when I began the project and precious little information beyond Microsoft sample programs. Eventually, the code developed for MEd became the basis of the TaeRichEdit Component. And a while after that, the Component became the basis for a new version of MEd.
I originally wrote MEd because I wanted WordPad to do a few more things, or do them differently – things like:
Support multiple undo/redo and other Rich Edit 2.0+ features.
Open multiple documents using a tab control document interface.
Recognize binary files and display them as hexadecimal file dumps.
Be able to switch between Rich Text, Plain Text, and a file dump view.
Remember more than four files in the "most recently used" file list.
Support custom filters in the open dialog.
Preview and print documents with headers and footers, borders, and codes for user names, dates, filenames, etc.
Support "page styles" that would make it easier to select user-defined headers, footers, borders, and so on.
Open up a new document when a file is dropped on the application (instead of inserting the dropped file into the current document).
These were some of the features that I wanted, but many more were added along the way....
I am posting this unfinished work for those curious about what can be done with the bits and pieces of code from this site. Be warned that MEd is really, really unfinished. There are unimplemented menu items (although the related toolbar buttons may work), features that are only partially implemented, and the first time that you run it, it will complain that the configuration was lost (just ignore the warning). However, I am already finding it to be a very useful tool and thought that you might want to see the Rich Edit 2.0 control in action.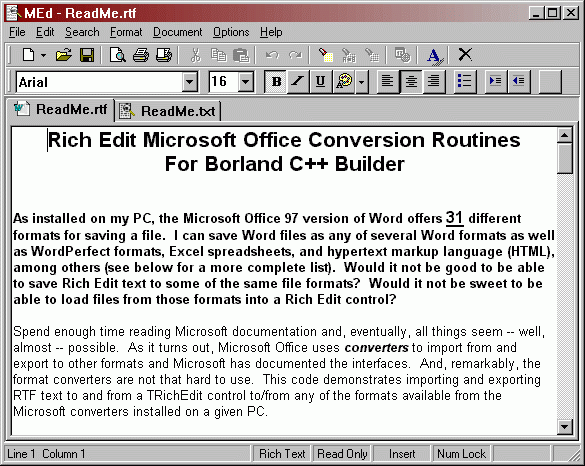 MEd Screen Shot
You may download the executable for this work-in-progress by clicking on the link below. Since this is an unfinished work, you are welcome to report bugs, but please do not expect fixes. In fact, you probably should not expect a reply, as I may be overwhelmed with bug reports and, hey, this is just an example of what can be done.
Before downloading MEd, please read the following notes:
MEd uses Rich Edit 2.0 (or 3.0 if installed). RICHED20.DLL must already be installed on your machine for this program to operate. RICHED20.DLL is normally installed in C:\Windows\System or C:\WinNT\System32, but search your entire drive if you do not find it there.
The first time that you run MEd, it will complain that the configuration information in the Registry is not valid. This is because coding the program to properly check for prior installation has been a very low priority. You may safely ignore this warning.
There is no help file. However, the status line shows a brief description of each menu item and button. Hopefully, most of the menus and buttons will operate in a familiar way.
There is no pretty install program – just extract the program from the distribution file into a folder and execute it.
Likewise, there is no pretty uninstall program. To uninstall the program simply delete it. You may also delete all of the Registry entries which are located under \\HKEY_CURRENT_USER\Software\Thin Air Enterprises\MEd if you wish to eliminate all traces of MEd.
You are not permitted to distribute this program. This download is available only to satisfy your curiosity, not for further sharing or use.
Finally, and most importantly, you use this program at your own risk. Absolutely and without exception. Period.
Download MEd30.zip (MEd executable only)
Last updated 04-29-2001, 560KB
Copyright © 1999-2001 Thin Air Enterprises and Robert Dunn. All rights reserved.